We partner with you to promote a healthy lifestyle to improve your employee's well-being.
COMMITTED TO THE WELFARE OF YOUR STAFF
Nowadays more and more companies are investing in the quality of life and the welfare of their employees, understanding the close relationship between physical and mental balance with highest professional performance.
RULIFES WELLNESS INTEGRAL, collaborates with companies dedicated to manage and development of corporate wellness programs offering a selection of wellness services that cover the following aspects:
Advice for the Implementation of Corporate Wellness Programs and Corporate Social Responsibility Programs.
Support in the design and zoning of corporate areas for health, entertainment and wellness, covering projects ranging from minimal spaces to gyms of all sizes.
Design of wellness projects in 2D and 3D.
Provide installation and maintenance of fitness equipment and spas.
Provide installation and maintenance of sports and entertainment floors and pavements.
Design and provide installation and maintenance of sports courts such as tennis, basketball, volleyball, etc.
Preventive and corrective maintenance service of fitness equipment.
Repair service of fitness equipment.
Benefits
BENEFITS OF CORPORATE WELLNESS
Several studies have proven the advantages obtained by companies that have adopted a Corporate Wellness program.
Standing out among many:
Improvement of a pleasant work atmosphere
Socialization and strengthening of work teams.
Increase in productivity and engagement.
Improvement in stress management.
Reduction of health costs
Reduction of absenteeism and sick leave
BENEFITS FOR THE IMAGE OF THE COMPANY
Corporate Wellness is aim to improve employees' health and quality of life. This statement also reinforces internal policies of Corporate Social Responsibility supporting and consolidating ethical and social commitment with the well-being of their human resources. This thoughtfulness approach also supports company's social image with positive impacts of loyalty, performance and motivation.
The productivity of your company will increase and your employees and associates will feel fulfilled and engaged.
WE SUPPORT PROJECTS THAT FEATURE WELLNESS IN EVERY COMPANY WITH OR WITHOUT SPACE
We have wellness solutions designed to adapt to every need and to every space.
NON-SPACE
Smart solutions for limited spaces
The Wellness Ball ™ – Active Sitting is designed to combat workplace´s sedentary habits and it could be a healthiest substitute of the classic office chair.
This exercise ball destabilizing effect helps to improve core stability and the use of a wide range of muscles mass. Improving balance, good posture, strength and muscle elasticity. In addition, the Wellness Ball ™ has a QR code that allows access to a variety of personalized health record and a gallery of recommended exercise videos.
The Wellness Ball ™ has a grip and a double density zone to increase stability, perfect for meeting rooms that could even become a wellness area when is not in use
Optimization of any available space
Combining Wellness Ball-Active Sitting with other compact fitness equipment, such as FLEXability™ in areas like the surroundings of the coffee machine, at the lobby or at the waiting room, creating a relaxing area and also training spot
LOT OF SPACE
Smart solutions for spaces from 200 SQFT and onwards
Rulifes helps you create a complete and efficient Wellness area in your company starting with optimal solutions for spaces of 200sqft onwards.
Our team of designers can help you establish specific areas for different types of activities always adapted to your employees, combining the best cardio, strength and functional equipment.
With a wellness space workers can increase their cardiovascular strength, burn calories and develop more flexibility, as well as improve their mental and emotional well-being.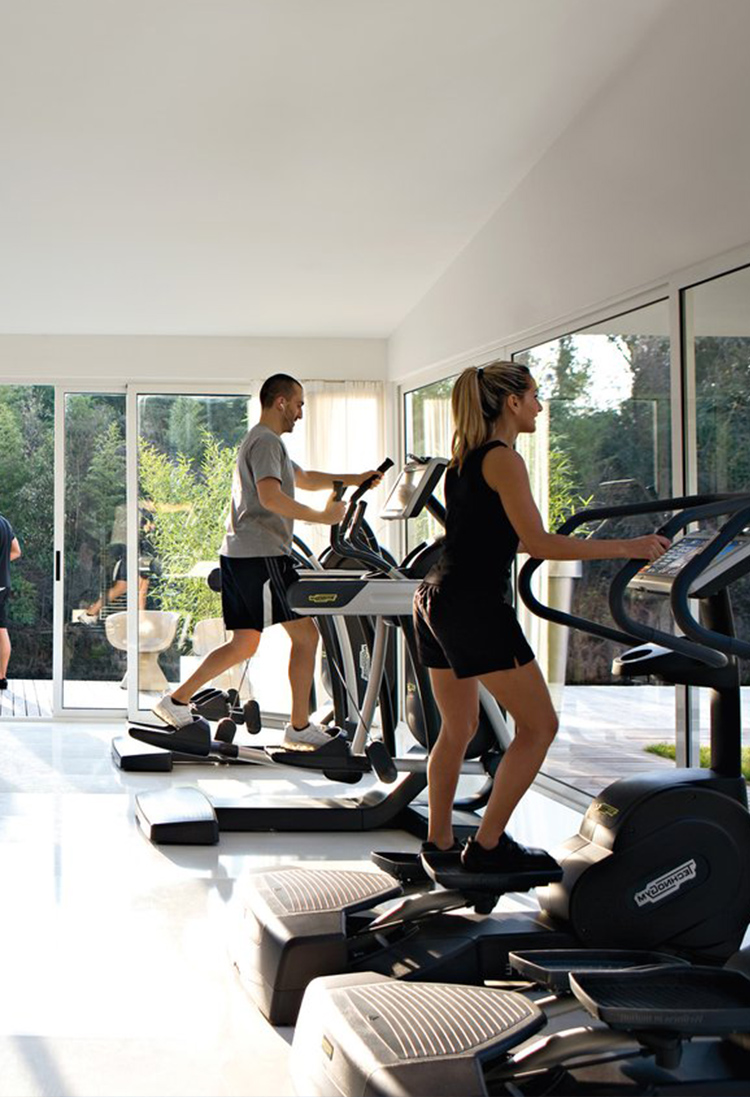 Smart solutions for each space
MYWELLNESS® KEY AND MYWELLNESS® CLOUD
Mywellness key is a portable device that helps your employees adopt a healthier and more active lifestyle by measuring and tracking the number of movements they perform each day, from a simple walk to a training session.
When you connect to a PC the data stored is transferred directly to mywellness cloud, where you can track your progress and results while setting new goals.
Mywellness ® cloud is the first cloud-based open platform of the fitness industry. It monitors, designs and offers personalized wellness experience for each user based on records and individual goals.
Mywellness ® cloud also helps in the management of facilities by providing equipment data such as uses rate or maintenance requirement.